Smokin' Monkey Food Truck Review
Smokin' Monkey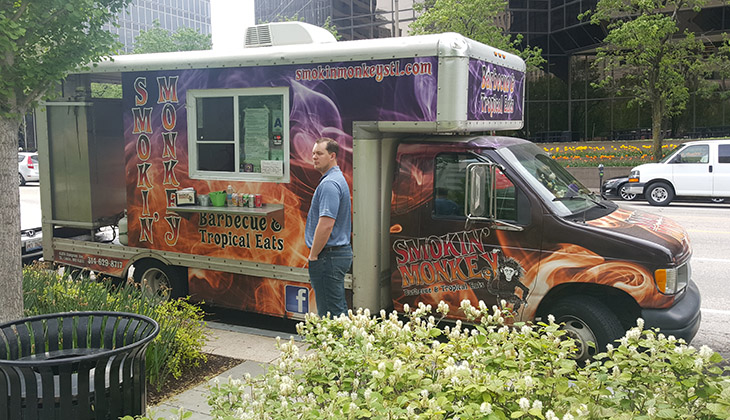 First Impression
There are some food trucks which are able to convey their intended cuisine and style simply by the look of the truck. There are other trucks which leave you guessing what in the world you will get should you be brave enough to sample their menu. Smokin' Moneky is one of the latter trucks. The first time I visited the truck, I had no idea what I would be walking away with. It says "Barbeque and tropical eats", but I'm still not sure what that means. I was expecting some really spicy wings or something but what I got was surprisingly better.
Pulled pork wrap with plantain chips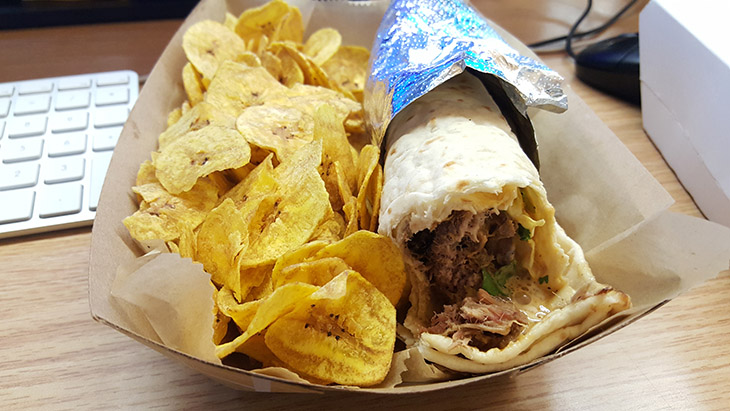 Food
They really should just say Caribbean food to avoid any confusion. They serve jerk chicken and a variety of pork plates. My go to is the pulled pork wrap with a side of plantain chips. The wrap is a little tidier than the sandwich and retains the juicy slaw and chipotle mayo inside. It is delicious and feels a little lighter on the stomach than other pulled pork sandwiches. I love plantains so of course I have to get the plantain chips. They are very thinly sliced and remind me of the Goya brand chips. I prefer a thicker cut chip but It's plantain chips so I can't really complain.
Value
The only negative thing about this truck is that the prices are not the cheapest. A pulled pork wrap will run you $8 while a side of plantain chips is an extra $2. $10 is a little over my food truck sweet spot, Luckily the food is good enough to bring me back.
Going back again?
Sure, every once in a while.